In 1975, at a weekend getaway, a group of women friends had an idea: since a consistent highlight of their decade-old bridge group was the food they prepared and enjoyed together, perhaps they should think about writing a cookbook. This spur-of-the-moment notion was the impetus for The Best of Bridge, which is now one of the most successful brands in Canadian cookbook publishing.
Best of Bridge is more than just a company – it evokes all the goodness of home cooking and that wonderful feeling of family, friends and comfort. Bridge recipes are staples at dinners and celebrations across Canada and many recipes are now part of family traditions because the recipes are always soul-satisfying, dependable, and above all, delicious.
We're coming up on the last day of this year's Christmas in November at the Fairmont Jasper Park Lodge, and are sad to see it end! This year the three of us (Julie, Sue and Elizabeth) were invited to present together for the first time. I've been a presenter here for the past 14 (!!) years, and both Sue and Elizabeth have attended as guests, but this was the first time we were all together, chatting about food and demoing some Best of Bridge recipes to a crowd that's mostly from Alberta, and who grew up eating and cooking from Best of Bridge.
It's a gorgeous place, if you've never been – 200+ cabins including the main lodge, on a 700 acre property wrapping around the stunning Lac Beauvert. The charming village of cedar chalets are connected by picturesque paths, populated by friendly wildlife and the occasional and when a little snow falls, it's even more picturesque.
And of course, the guests are fantastic. We do sessions every day, along with seasoned presenters like Michael and Anna Olson and Elizabeth Baird and Emily Richards, along with new faces including Massimo Capra, Christine Cushing and Roger Mooking. We even had a kitchen party (or three), where Michael grilled a mountain of pork chops and Anna made a bacon-heavy Caesar salad and sticky toffee pudding.
Of course the food is amazing, the champagne and cocktails always flowing, and the stone fireplaces always lit. We've become far too accustomed to cocktail hour by the fire – which is even more of a blast when we get to catch up with our food writer friends from Toronto, or meet and get to know guests who return from year to year.
(Iconic food writer, past Canadian Living food editor and Order of Canada recipient – and all around amazing lady – Elizabeth Baird came up to congratulate Elizabeth on her new Best of Bridge gig, and it was the best moment of her life.)
We've learned plenty of great new recipes for the upcoming holiday season – and are heading home inspired! Keep an eye here and on our Facebook page and Instagram and Twitter feeds for some Christmas yumminess. 'Tis the season!
– Julie
"There's no substitute for an old-fashioned pot roast. Its appetizing aromas, wafting through the house, are every bit as good as the meal itself. This easy-to make version using a slow cooker, features a can of tomato soup which creates a sumptuous gravy. Serve it with plenty of creamy mashed potatoes to soak up the sumptuous sauce. Imagine coming home after a long day at work to this comforting and perfect pot roast….bliss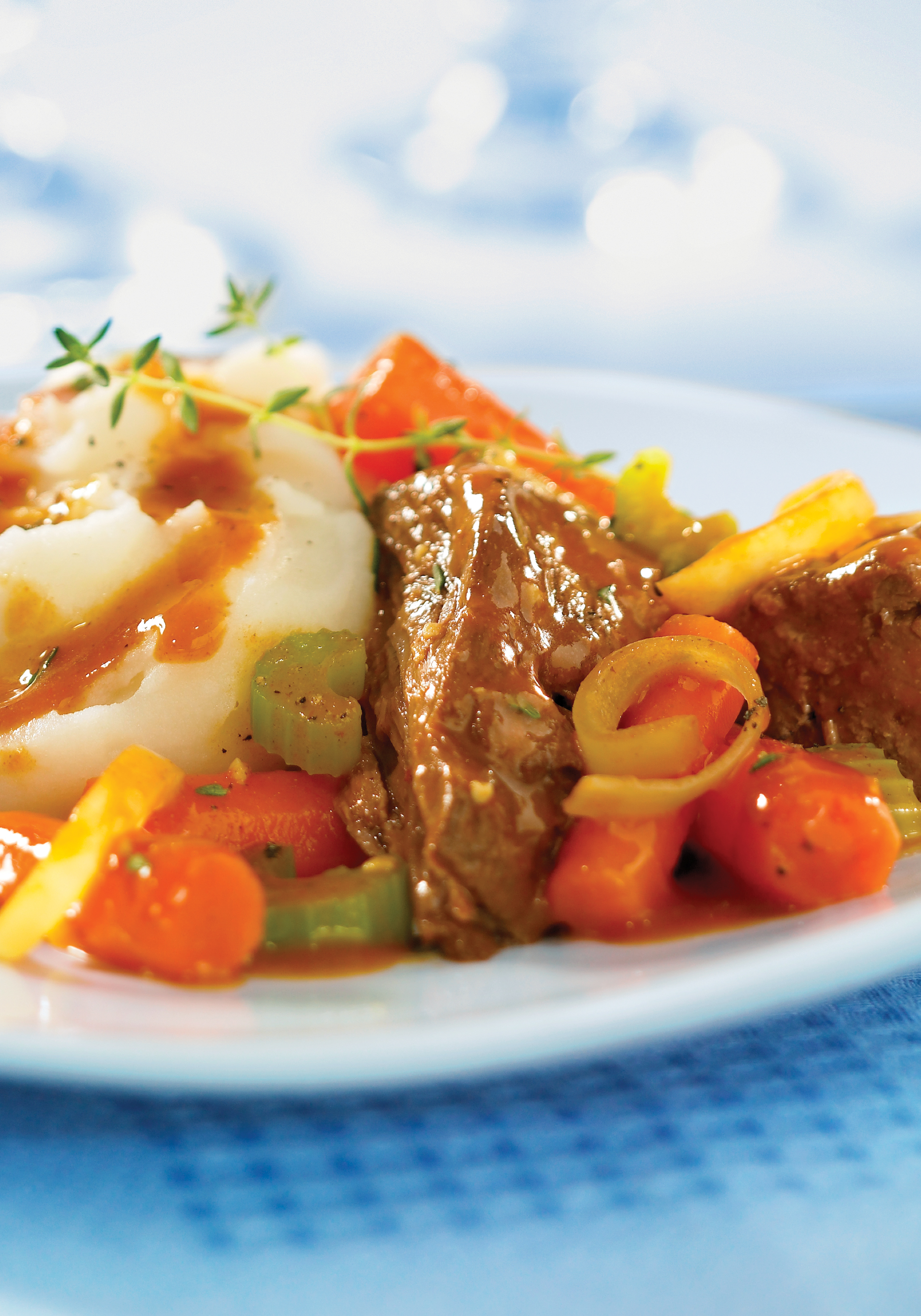 Easy Pot Roast with Rich Tomato Gravy
2015-10-22 16:18:39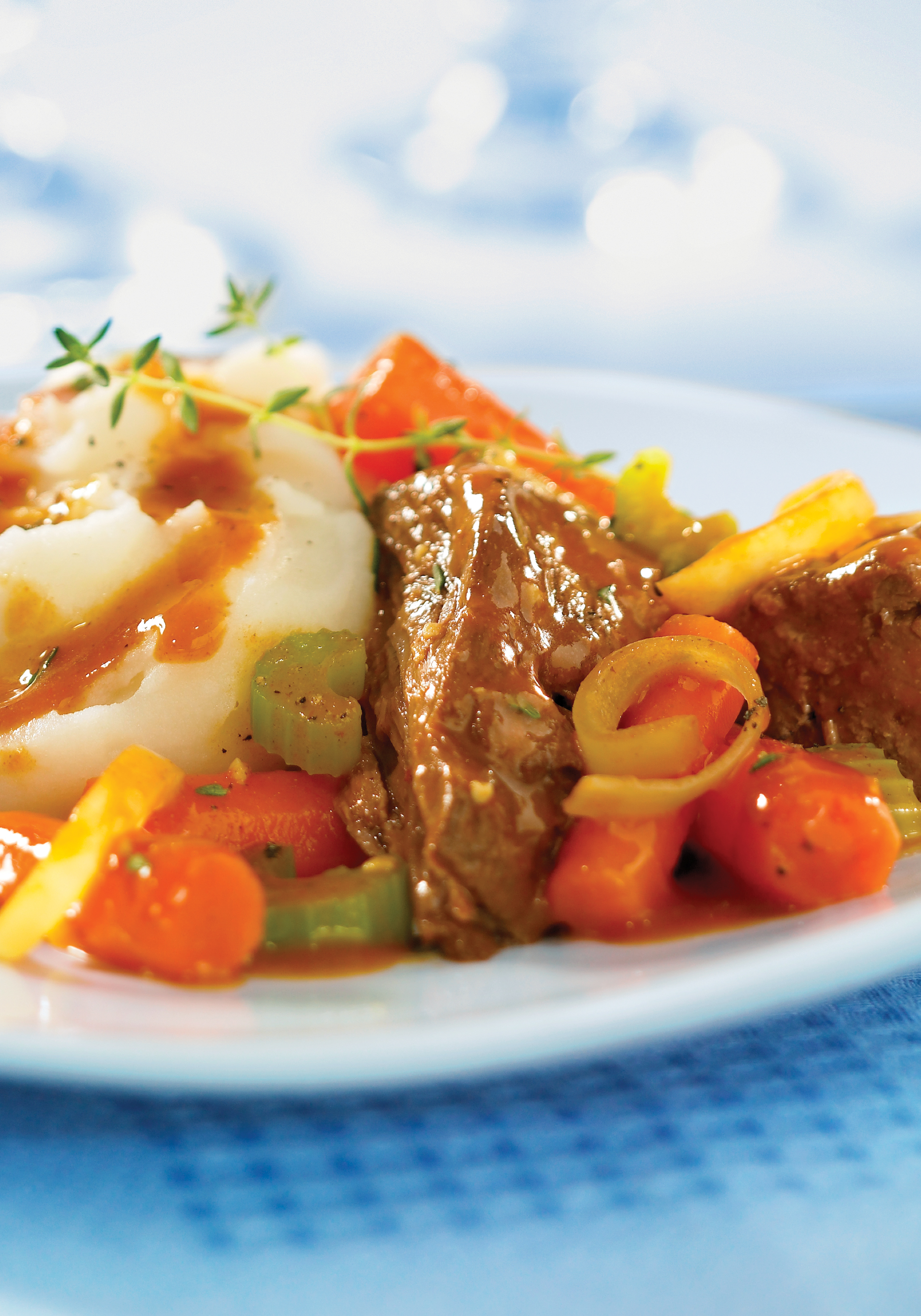 Easy Pot Roast with Rich Tomato Gravy Best of Bridge Home Cooking (page 274) SLOW COOKER RECIPE
Ingredients
1 boneless beef pot roast, chuck, 1
blade or cross rib (3 to 4 lbs/
1.5 to 2 kg)
1 tbsp vegetable oil 15 ml
2 onions, thinly sliced 2
3 stalks celery, thinly sliced 3
3 large carrots, cut into chunks 3
2 cloves garlic, minced 2
1 tsp dry mustard 5 ml
1⁄2 tsp dried thyme 2 ml
1⁄2 tsp cracked black peppercorns 2 ml
2 tbsp all-purpose flour 30 ml
1 can (10 oz/284 ml) condensed 1
tomato soup
1⁄2 cup Hearty Beef Stock (page 43) or 125 ml
ready-to-use beef broth
2 tbsp packed brown sugar (optional) 30 ml
2 tbsp balsamic or red wine vinegar 30 ml
(optional)
1 tbsp Worcestershire sauce 15 ml
Instructions
Pat roast dry with paper towel. In a skillet, heat oil over medium-high heat. Add roast and cook, turning, until brown on all sides, about 10 minutes. Transfer to a large (minimum 5-quart) slow cooker. Reduce stovetop heat to medium. Add onions, celery and carrots to pan and cook, stirring, until vegetables are softened, about 7 minutes. Add garlic, mustard, thyme and peppercorns and cook, stirring, for 1 minute. Sprinkle with flour and stir. Add tomato soup and broth and cook, stirring, until thickened. Pour mixture over roast, cover and cook on Low for 8 hours or on High for 4 hours, until meat is very tender. Remove roast from slow cooker and place on serving platter. Stir brown sugar (if using), vinegar (if using) and Worcestershire sauce into pan juices. Pour sauce over roast or serve in a separate sauceboat. Serve piping hot.
Serves 6 to 8.
Notes
Tip: There is no added salt in this recipe because the tomato soup is fairly high in sodium. Taste the sauce once it is assembled and adjust the seasoning to suit your taste
Easy Pot Roast with Rich Tomato Gravy, Best of Bridge Home Cooking (page 274)
The Best of Bridge http://www.bestofbridge.com/